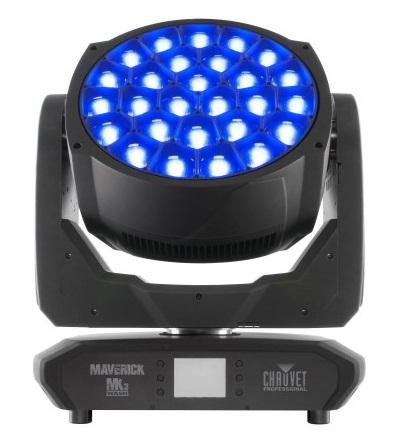 Chauvet Maverick MK3 Wash
MAVERICKMK3WASH
Usually shipped within 2-3 working days
---
---
The Chauvet Maverick MK3 Wash raises the bar on output, colour consistency, and pixel effects.
Powered by 27 (40 W) Osram RGBW LEDs, it has the muscle to handle any application, including long throw situations, with ease. Pixel mapping effects, built in colour macros and gobos, along with a CTO colour mixing option make this fixture the complete wash light package.
Control options including DMX, sACN, Art-Net, Kling-Net or W DMX round out this fixture, which can also receive Art-Net or sACN in, and send DMX out, simplifying cable runs.
FEATURES:
Fully featured RGBW LED yoke wash fixture with pixel mapping and zoom
16-bit dimming of master dimmer as well as individual colours for smooth control of fades
Built in colours for quick design possibilities
Built in virtual gobo wheel with background colours for impressive atmospheric effects
Precise movement of pan, tilt, and zoom
Quiet operation for a wide range of installation situations
DMX, WDMX, S ACN, Art-Net, and Kling-Net control for full flexibility
RDM Enabled for remote addressing and trouble shooting
Converts TCP/IP to DMX for shorter data cable runs
7° - 45° Zoom angle for variable beam sizes
True 1 compatible power input
Battery backup touch screen display with auto rotate depending on fixture orientation
SPECIFICATION:
Optical
Light Source: 27 LEDs (quad-colour RGBW) 40 W, (2.6A), 50,000 hours life expectancy
Colour Temperature (range): 2800 to 10000 K
Beam Angle: 5° to 29°
Field Angle: 7° to 45°
Zoom Angle: 7° to 45°
Illuminance (7°): 78,300 lux @ 5 m
Illuminance (45°): 2814 lux @ 5 m
Selectable PWM: 600Hz, 1200Hz, 2000Hz, 4000Hz, 6000Hz, 15000Hz
Dynamic Effects
Pan and Tilt: 540°/270°
Pan and Tilt Ranges: 540°, 360°, 180° pan/270°, 180°, 90° tilt
Dimmer: Electronic
Shutter/Strobe: Electronic
Zoom: Motorised
Strobe Rate: 0 to 20 Hz
Standalone Colour Mixing: Yes
Colour Temperature Presets: Yes
Move-in-Black: Yes
Dim Curves: 4
Construction / Physical
Dimensions: 18.7 x 11.49 x 22.93in (459 x 292 x583 mm)
Weight: 68.2 lb (31 kg)
Exterior Colour: Black
Housing Material: High-impact flame-retardant polymer
Connections
Power Connection: Edison plug to Seetronic Powerkon IP65
Power Input: Seetroic Powerkon IP65
Data Connectors: 3- and 5-pin XLR
Cable Length (power): 5 ft (1.5 m)
Control
Control Protocol: Art-Net, Kling-Net, DMX, W-DMX
DMX Channels Single Mode: 20, 128, 242 or 296
DMX Channels Dual Mode – Function: 9,21,27
DMX Channels Dual Mode – Pixel: 81,108,216
Art-Net Channels Single Mode: 20, 128, 242 or 296
Art-Net Channels Dual Mode – Function: 9,21,27
Art-Net Channels Dual Mode – Pixel: 81,108,216
Electrical
Input Voltage: 100 to 240 VAC, 50/60 Hz (auto-ranging)
Power and Current: 1,120 W, 9.51 A @ 120 V, 60 Hz
Power and Current: 1,100 W, 5.35 A @ 208 V, 60 Hz
Power and Current: 1,120 W, 4.84 A @ 230 V, 50 Hz
Certifications / Qualifications
CE, METIP
Rating: IP20, dry location
Temperature (Ambient): -4 °F to 113 °F (-20 °C to 45 °C)
Manufacturer: Chauvet
---
We Also Recommend