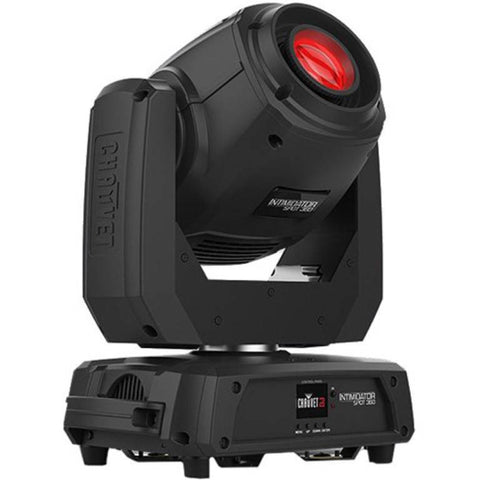 Chauvet Intimidator Spot 360
INTIMSPOT360
Usually shipped within 2-3 working days
---
---
The Chauvet DJ Intimidator Spot 360 is a 100 W LED packed with mobile event lighting power. Dual rotating prisms are on board to split the beam and cover a larger area with Intimidator Spot 360's impressive visuals.
Throw light even farther by decreasing the beam angle 5° using the manual zoom. Motorised focus gives you the ability to create sharp gobo patterns from almost any distance and Totem mode lets you keep the beams forward. Intimidator Spot 360 lets you set, save, and recall 1 scene manually, directly from the full-coloUr LCD display.
Creating amazing light shows is easy with wireless non-DMX control using the optional IRC-6 remote. Intimidator Spot 360 uses powerCON®-compatible power input/output connections for power linking.
A handy ¼-turn hanging bracket allows for single or dual clamp mounting options and Intimidator Spot 360 fits best in the CHS-360 VIP carry bag or the INTIMROADCASES35X flight case. This light is suitable for every event with either black or white housing.
FEATURES:
Chauvet DJ Intimidator Spot 360
100W LED
Energize the party using the Totem mode that will keep the beams on the dance floor
Motorised focus allows sharp gobo projection
Wireless non-DMX control
PowerCON®-compatible power input/output connections for power linking
Full-colour LCD display
Hanging bracket allows for single or dual clamp mounting 
SPECIFICATION:
General
DMX Channels: 8 or 14
Pan and Tilt: 540°/270°
Pan and Tilt Ranges: 540°, 360°, 180° pan/270°, 180°, 90° tilt
Colours: 8 + white, split colours, continuous scroll at variable speeds
Gobos: 7 + open (6 metal + 1 glass), rotating, interchangeable, indexing, slot-n-lock, continuous scroll at variable speeds
Gobo Size: 24 mm outside, 20 mm image, 1.1 mm max thickness
Prism (1): 3-facet round, bidirectional rotation at variable speeds
Prism (2): 5-facet linear, bidirectional rotation at variable speeds
Strobe Rate: 0 to 20 Hz
Zoom Angle (manual): 12° to 17°
Illuminance (12°): 5,470 lux @ 5 m
Illuminance (17°): 3,097 lux @ 5 m
Power Linking: 6 units @ 120 V; 11 units @ 230 V
Input Voltage: 100 to 240 VAC, 50/60 Hz (auto-ranging)
Power and Current: 163 W, 2.07 A @ 120 V, 60 Hz
Power and Current: 154 W, 1.18 A @ 230 V, 50 Hz
Physical & Dimensions
Height: 423mm
Width: 322mm
Depth: 297mm
Manufacturer: Chauvet
---
We Also Recommend