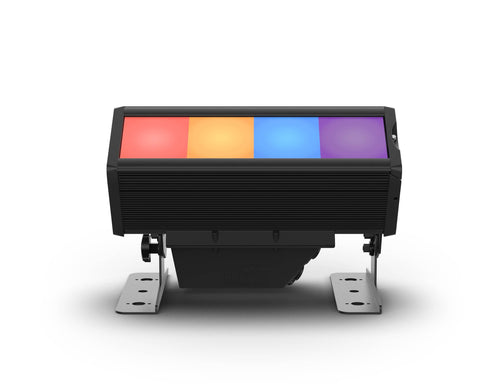 Chauvet COLORado Solo Batten 4
COLORADOSOLOBATTEN4
Usually shipped within 2-3 working days
---
---
The Chauvet COLORado Solo Batten 4 is a unique RGBAW 4-cell LED batten with seamless end-to-end colour mixing.
This compact, multi-purpose fixture has four completely homogenised, individually-controlled square sections that project smooth colour-mixing without separation or dimmed lens corners. This versatile batten is IP65-rated and can be used as a wash or for pixel-map-able eye-candy effects.
It also compliments our COLORado Solo Batten perfectly. This small but robust fixture was built for touring, festivals, installations, and theatrical productions. This unit includes IP-rated power, DMX, and Ethernet connections, as well as a large, password-protected display.
FEATURES:
RGBAW 4-cell LED Batten with seamless end-to-end colour for wash or pixel mapping
Completely homogenised colour with no separation or dimmed lens corners
All-environment operation with IP rated power, DMX, and Ethernet connections
Colour temperature presets, from 3200 K to 10000 K
Selectable, smooth dimming curves for programming versatility
Built for touring, live event, television, and theatrical productions
Large, easy-to-navigate display with password protection
SPECIFICATION:
OPTICAL
Light Source: 48 LEDs (8 red, 8 green, 8 blue, 8 amber, 16 white) 3 W, (612 mA) 50,000 hours life expectancy
Colour Temperature (range): 1800 to 8000 K
CRI (3200 K): 77.2
Installed Optics: 18°
Beam Angle (Horizontal): 18°
Beam Angle (Horizontal w/ Filter): 35°
Beam Angle (Vertical): 17°
Beam Angle (Vertical w/ Filter): 16°
Field Angle (Horizontal): 34°
Field Angle (Horizontal w / Filter): 66°
Field Angle (Vertical): 30°
Field Angle (Vertical w / Filter): 32°
Lumens: 3,730
Illuminance (total): 1,270 lux @ 5 m
Illuminance w/ Filter (total): 432 lux @ 5 m
Selectable PWM: 600, 1,200, 2,000, 4,000, 6,000, 25,000
DYNAMIC EFFECTS
Dimmer: Electronic
Shutter/Strobe: Electronic
Strobe Rate: 0 to 25Hz
Standalone Colour Mixing: Yes
Colour Temperature Presets: Yes
Dim Modes: 5
Built-in Automated Programs: Yes
Customizable Programs: Yes
Recall Custom Programs: Yes
CONSTRUCTION / PHYSICAL
Dimensions: 14.65 x 9.06 x 9.96 in (372 x 230 x 253 mm)
Dimensions (shipping size): 17.32 x 8.85 x 13.58 in (440 x 225 x 345 mm)
Weight:17.2 lb (7.8 kg)
Weight (shipping weight): 20.50 lb (9.3 kg)
Exterior Colour: Black
Housing Material: Aluminium die-cast
Accessory Holder/Gel Frame Size: 13.5 x 3.81 in (342.9 x 97 mm)
CONNECTIONS
Power Connection: Edison (Local) plug to Seetronic Powerkon IP65
Power Input: Seetronic Powerkon IP65
Power Output: Seetronic Powerkon IP65
Data Connectors: 5-pin IP65 XLR, Seetronic etherCON IP65
Cable Length (power): 5 ft (1.5 m)
CONTROL
Control Protocol: Art-Net, DMX, Art-Net to DMX, sACN, RDM
DMX Channels: 1 Cell: 3, 4, 5, 8, 8, 9, 10, 10, 13, 16
DMX Channels: 4 Cell: 12, 16, 20, 27, 29, 31, 35, 40, 56
Art-Net Channels: 1 Cell: 3, 4, 5, 8, 8, 9, 10, 10, 13, 16
Art-Net Channels: 4 Cell: 12, 16, 20, 27, 29, 31, 35, 40, 56
Modes/Personalities: 19 personalities
ELECTRICAL
Input Voltage: 100 to 240 VAC, 50/60 Hz (auto-ranging)
Power Linking: 14 units @ 120 V; 24 units @ 208 V; 26 units @ 230 V
Power and Current: 113 W, 0.960 A @ 120 V, 60 Hz [4.2 A inrush]
Power and Current: 110 W, 0.566 A @ 208 V, 60 Hz [3.60 A inrush]
Power and Current: 111 W, 0.516 A @ 230 V, 50 Hz [2.6 A inrush]
Power and Current (resting): 11 W, 0.085 A @ 120 V, 60 Hz
Power and Current (resting): 25 W, 0.117 A @ 208 V, 60 Hz
Power and Current (resting): 27 W, 0.115 A @ 230 V, 50 Hz
CERTIFICATIONS / QUALIFICATIONS
CE, MET, FCC
IP Rating: IP65, temporary outdoor/wet use
Temperature (Ambient): -4 °F to 113 °F (-20 °C to 45 °C)
WHAT'S IN THE BOX
COLORADO SOLO BATTEN 4, with glare shield
Seetronic Powerkon IP65 power cord
Wall Wash Filter
Omega Brackets
Quick Reference Guide
Manufacturer: Chauvet
---
We Also Recommend