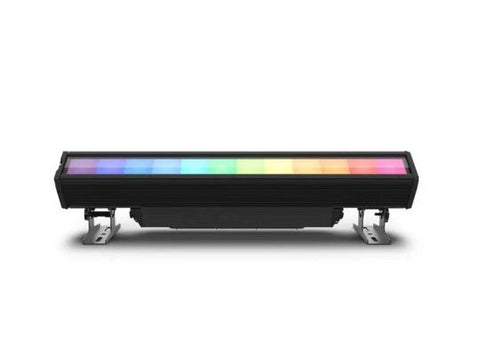 Chauvet COLORado Solo Batten
COLORADOSOLOBATTEN
Usually shipped within 2-3 working days
---
---
The Chauvet COLORado Solo Batten is a powerful one-of-a-kind batten that projects a single homogenised wash with smooth colour-mixing, giving it the appearance of a bright single bar of light without round "eyes" or pixels. It complements the COLORado Solo pars perfectly.
This very versatile fixture is also engineered with 12 individually controllable square sections that appear seamlessly together without separation but can also create an endless variety of colour control and pixel mapping effects.
The unit is IP65 rated and equipped with DMX and RDM protocols.
FEATURES:
RGBAW LED Batten with seamless end-to-end colour for wash or pixel mapping
Completely homogenised colour with no separation or dimmed lens corners
All environment operation with IP rated power, DMX, and Ethernet connections
Colour temperature presets, from 3200 K to 10,000 K
Selectable, smooth dimming curves for programming versatility
Built for touring, live event, television, and theatrical productions
Large, easy to navigate display with password protection
SPECIFICATION:
Optical
Light Source: 144 LEDs (24 red, 24 green, 24 blue, 24 amber, 48 white) 3 W, (612 mA) 50,000 hours life expectancy
Color Temperature (range): 1800 to 8000 K
Installed Optics: 18°
Beam Angle (Horizontal): 20°
Beam Angle (Vertical): 16°
Beam Angle (Horizontal w/filter): 37°
Beam Angle (Vertical w/filter): 15°
Field Angle (Horizontal): 34°
Field Angle (Vertical): 29°
Field Angle (Horizontal w/filter): 63°
Field Angle (Vertical w/filter): 30°
Lumens: 6,968
Illuminance (total): 3,870 lux @ 5 m
Illuminance (w/filter): 1,230 lux @ 5 m
Selectable PWM: 600 Hz, 1,200 Hz, 2,400 Hz, 4,000 Hz, 6,000 Hz, 25,000 Hz
Dynamic Effects
Dimmer: Electronic
Shutter/Strobe: Electronic
Strobe Rate: 0 to 25Hz
Standalone Colour Mixing: Yes
Colour Temperature Presets: Yes
Dim Modes: 5
Built-in Automated Programs: Yes
Customizable Programs: Yes
Recall Custom Programs: Yes
Connections
Power Connection: Edison (Local) plug to Seetronic Powerkon IP65
Power Input: Seetronic Powerkon IP65
Power Output: Seetronic Powerkon IP65
Data Connectors: 5-pin IP65 XLR, Seetronic etherCON IP65
Cable Length (power): 5 ft (1.5 m)
Control
Control Protocol: Art-Net, DMX, RDM, sACN
DMX Channels 

1 Cell: 3, 4, 5, 8, 8, 9, 10, 10, 16 
2 Cell: 6, 8, 10, 15, 15, 17, 19, 20, 30 
3 Cell: 9, 12, 15, 21, 22, 24, 27, 30, 43 
12 Cell: 36, 48, 60, 75, 85, 87, 99, 120, 160Art-Net™ Channels: 
1 Cell: 3, 4, 5, 8, 8, 9, 10, 10, 16 
2 Cell: 6, 8, 10, 15, 15, 17, 19, 20, 30
3 Cell: 9, 12, 15, 21, 22, 24, 27, 30, 43 
12 Cell: 36, 48, 60, 75, 85, 87, 99, 120, 160

Modes/Personalities: 36 personalities
Electrical
Input Voltage: 100 to 240 VAC, 50/60 Hz (auto-ranging)
Power Linking: 4 units @ 120 V; 8 units @ 208 V; 9 units @ 230 V
Power and Current: 331 W, 2.75 A @ 120 V, 60 Hz
Power and Current: 329 W, 1.581 A @ 208 V, 60 Hz
Power and Current: 332 W, 1.456 A @ 230 V, 50 Hz
Certifications/Qualifications
CE, METIP Rating: IP65, temporary outdoor/wet use
Temperature (Ambient): -4 °F to 113 °F (-20 °C to 45 °C)
Physical & Dimensions
Dimensions: 39.86 x 9.06 x 9.84 in (1012.5 x 230 x 249.8 mm)
Weight: 41.9 lb (19 kg)Exterior Colour: Black
Housing Material: Aluminium die-cast
Accessory Holder/Gel Frame Size: 38.75 x 3.81 in (984.25 x 97 mm)
Manufacturer: Chauvet
---
We Also Recommend