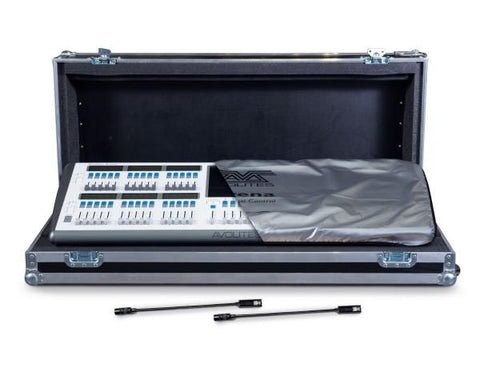 Avolites Arena Bundle
Avolites Arena Bundle - Special Order Item
Usually shipped within 2-3 working days
---
---
The Avolites Arena is the ideal desk for festivals, theatres and anywhere that a larger control surface is required. It combines the popular interface of the Tiger Touch II with more live control than ever before.
Alongside the vibrant main display, a second touch screen provides an additional workspace window, also labelling the adjacent macro buttons and rotary pots. These fully assignable playback encoder pots, allow intuitive control of channels and effects.
The six LCD screens display electronic legends for 30 faders, for speedy access to all your playbacks, fixtures and palettes. A brand new optical output means the Arena is equipped for fibre connections, with no signal loss over long distances, from front of house to the stage – essential in large and outdoor venues.
Offering seamless Multi User compatibility, the Arena can be used as master, back-up or extra programming surface, considerably cutting your programming time by allowing multiple Titan programmers to work simultaneously, before the main console takes charge.
Arena Flightcase for Arena Lighting Console
Avolites Arena Flightcase for Arena Lighting Console. Perfect for transporting your Avolites Arena Console safely and in style!
Arena Cover for Arena Lighting Console
Avolites Arena Cover for Arena Lighting Console. Keep your console protected when not in use with the official Avolites Arena cover!
18" Straight Lamp for Arena Lighting Console
An 18" LED lamp to light up your Avolites Arena console during operation. Perfect for lighting your console interface even in the darkest places!
Finished in black, this sturdy lamp is the ideal partner for your Arena console as it's easily maluable to get the perfect lighting position. With an XLR connection the lamp fits nicely into your Arena console.
*Bundle specs subject to change without notice
FEATURES:
Arena Live Lighting Console
40 precision playback faders in three pageable groups.
20 programmable macro executor buttons.
3 metal shaft optical attribute encoders.
4 optical playback encoder pots.
15.6" vibrant main touch screen with brightness control.
7" vibrant secondary touch screen.
6 mono LCD screens for digital fader legends.
UPS battery back-up
New six-position articulation stand
Ergonomic trim and carry handles
Robust stainless and zinc treated steel construction – built for life on the road
Includes 4-port managed Gigabit network switch
OpticalCON Stage link output, with an optional second link
8 physical 5-pin XLR opto-isolated DMX out, up to 16
universes over ArtNet or streaming ACN – total of 8192 console channels.
Compatible with Titan Net – up to 64 universes, total of 32,768 system channels.
4 Ethercon Gigabit primary network connection with a battery maintained managed switch supporting Titan Net, ArtNet and streaming ACN.
1 Ethercon Gigabit secondary Network connection for Titan Net, ArtNet and streaming ACN.
1 standard OpticalCON stage link output, to connect to industry standard network switches with optical support.
SMPTE Timecode/LTC input 3-pin XLR (transformer isolated).
Trigger inputs on ¼" jack, suitable for foot switches.
Audio in on stereo ¼" jack for Audio Triggering.
Headphone 3.5mm jack conveniently placed on the front panel.
4 USB3 ports – 1 front, 3 rear.
DVI-D for external display.
Two 3-pin XLR dimmable lamp connector
MIDI in, out and thru.
Compatible with Titan Remote (Wi-Fi access point required)
Optional extras: Flight Case, Dimmable Lamp x2, Cover
Arena Flightcase
Specifically designed for the Arena lighting console
Safest method of transportation
Avolites logo on the side for that professional appearance
Wheels for easy transport
Arena Cover
Specifically designed for your Arena lighting console
Protects your desk from wear, tear and dust
Keeps your desk clean
Finished in a metallic silver colour
18" Straight Lamp for Arena Lighting Console
18" in length
Made from sturdy metal
Easy maluable stalk
Fits in XLR input of your Arena lighting console
SPECIFICATION:
Physical & Dimensions
Console:

Dimensions: 1072mm x 428mm x 150mm
Weight: 23kg

Console in flightcase:

Dimensions: 1200mm x 578mm x 300mm
Weight: 44kg
What's in the Box?
1 X Arena Lighting Console
1 X Arena Flightcase
1 X Arena Dust Cover
2 X 12" LED Lamp for Arena console
Manufacturer: Avolites 
---
We Also Recommend