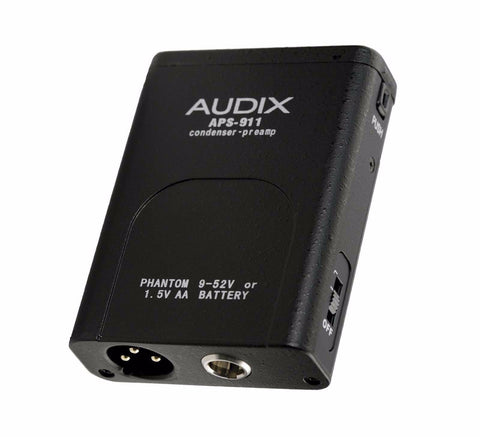 Audix APS911 Battery Phantom Power Supply
AX-APS911
Usually shipped within 2-3 working days
---
---
The Audix APS911 Battery-Operated Phantom Power Supply and Converter is a battery-operated phantom power supply for energy-efficient electret mics that can also adapt 48V phantom power from a mixer or preamp to the mini XLR connection found on these mics.
Use it with Audix's lavalier, hanging, boundary plate, and HT2 headset microphones. 

Special extras on the APS911 include an on/off switch and a bass roll-off feature. 

Battery-Operated Phantom Power - Using a single 1.5V AA battery, the Battery-Operated Power Supply outputs 9V of phantom power for energy-efficient electret mics including Audix lavalier, hanging, boundary plate, and headset models. 

Adapt Standard Phantom Power for Electret Mics - The Phantom Power Adapter also mates with phantom power sources on standard XLR connectors (such as 48V mixer channels) and assures that power is supplied to the correct mini XLR pins for Audix electret mics. In this case, the APS911 is in passive mode, passing whatever current is supplied. 

On/Off Switch - A built-in on/off switch helps conserve battery life and also acts as a mode selector when using the APS911 as either a battery-operated phantom power source or a passive phantom power converter. 

Bass Roll-Off - Clean your recordings of low-end rumble, structural noise transmitted through a mic stand, or unused frequencies by activating the handy 150Hz low cut filter. Since most human speech occurs above this cutoff, you'll want to use it routinely for voice recording.
FEATURES:
Input Connectors Mini XLR Female
Output Connectors 3-Pin XLR Male
Adapter Adapts 9-48V Phantom Power on XLR for use with small mics bearing mini XLR connectors
Battery 1.5V AA
Power 9V Phantom Power Ouput from a 1.5V Battery
Also adapts incoming 9-48V phantom power for use with electret mics in passive mode
Dimensions 3.27 x 0.87 x 2.48" (8.3 x 2.2 x 6.3 cm)
Weight 8.0 oz (227.76 g)
Compatible with: Audix Microphones ADX10, ADX40, ADX60, HT5, ADX10FL, HT2
Manufacturer: Audix
---
We Also Recommend