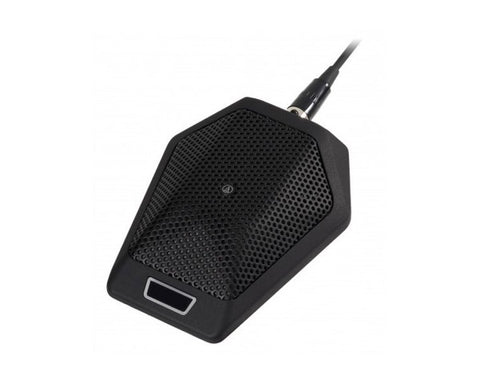 Audio-Technica U891RB
U891RB
Usually shipped within 2-3 working days
---
---
Designed to deliver easy, flexible control in conference and boardroom installations, the versatile U891Rb cardioid condenser boundary microphone features a touch-sensitive capacitive-type user switch that can be set to three modes: touch on/off, touch to talk, and touch to mute.
The phantom-powered microphone is equipped with a unique PivotPoint rotating output connector and a two-state RGB LED status indicator. UniGuard innovations offer unsurpassed immunity from radio frequency interference; additional interchangeable elements are available separately in hypercardioid and omnidirectional polar patterns; an 80 Hz low-cut UniSteep filter reduces pickup of low-frequency ambient noise.
This microphone's heavy die-cast case and silicon foam bottom pads minimize coupling of surface vibration to the microphone, while threaded inserts on the bottom of the microphone allow it to be mounted with screws for increased security. The unit's self-contained electronics eliminate the need for an external power module.
Product Features
Cardioid condenser boundary microphone with touch-sensitive capacitive-type user switch

Designed for surface-mount applications such as high-quality sound reinforcement, professional recording, television, conferencing and other demanding sound pickup situations

The capacitive touch switch can be set to any of three operating modes: touch on/off, touch to talk and touch to mute

Integral, phantom-powered, two-state RGB LED indicator displays on/off status of microphone

Superior off-axis rejection for maximum gain before feedback

PivotPoint rotating output connector allows cable to exit from either the rear or the bottom of the microphone

Small-diameter UniPoint element near boundary eliminates phase distortion and delivers clear, high-output performance

Available interchangeable elements permit angle of acceptance from 100° to 360°

UniGuard RFI-shielding technology offers outstanding rejection of radio frequency interference (RFI)

Self-contained electronics eliminate need for external power module

Heavy die-cast case and non-slip silicone foam bottom pads minimize coupling of surface vibration to the microphone

Low-profile design with low-reflectance finish for minimum visibility

Threaded inserts on bottom of microphone allow it to be mounted with screws for increased security

Available in two colors: black (U891Rb) and white (U891RWb)
Product Specifications 
General
Element:  Fixed-charge back plate, permanently polarized condenser
Polar Pattern:  Cardioid
Open Circuit Sensitivity:  -34 dB (19.9 mV) re 1V at 1 Pa
Impedance:  50 ohms
Maximum Input Sound Level:  130 dB SPL, 1 kHz at 1% T.H.D.
Low Frequency Roll Off:  80 Hz, 18 dB/octave
Switches:  Dimensions
Headphone Output Power
Dynamic Range:  104 dB, 1 kHz at Max SPL
Signal-to-Noise Ratio:  68 dB, 1 kHz at 1 Pa, A-weighted
Phantom Power Requirements:  11-52V DC, 9.3 mA
Output Connector:  Microphone: TB3M-type
Cable: 3-pin XLRM-type
Cable:  7.6 m long, 3.2 mm diameter, 2-conductor, shielded cable with TA3F and XLRM connectors
Physical
Weight:  253 g
Dimensions:  23.0 mm H x 83.9 mm W x 108.0 mm D
Manufacturer: Audio Technica
---
We Also Recommend