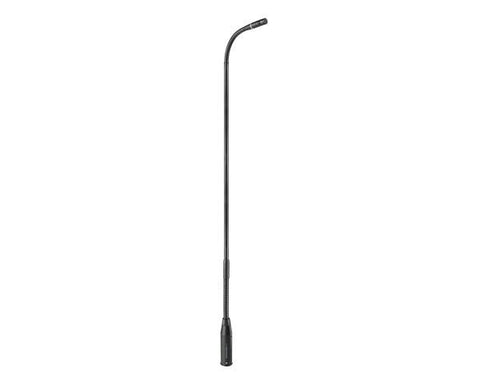 Audio-Technica ES925H24/XLR
ES925H24/XLR
Usually shipped within 2-3 working days
---
---
The ES925H24XLR is a 24" modular microphone system designed for professional sound reinforcement and other commercial sound applications.
It includes a hypercardioid condenser microphone element, gooseneck and an XLR power module.
Each component is interchangeable with other ES modular microphone components, allowing you to mix and match power module types (XLR, FM3, FM5, DS5), gooseneck lengths (6", 12", 15", 18", 21" and 24"), and microphone polar patterns (MicroLine®, hypercardioid, cardioid).

The ES925 XLR microphone's low-profile element provides a uniform hypercardioid polar pattern with a 100° acceptance angle. The element housing features a highly visible, single-state RGB LED status indicator that functions seamlessly with ATUC series products and the AT8699R desk stand.
A foam windscreen is included to protect against plosives. The microphone element attaches to the small-diameter gooseneck, which offers highly flexible positioning while maintaining a well-contoured appearance.
The XLR power module plugs into any standard XLRF-type connector or mounts to 5/8"-27 stands using the included quick-mount stand adapter. UniGuard® innovations offer unsurpassed immunity from radio frequency interference.
Length is approximate depending on components used.
Product Features
Modular microphone system includes a microphone element, gooseneck and power module – each interchangeable with components from other ES Modular Microphones
Element housing features a highly visible, single-state RGB LED status indicator that functions seamlessly with ATUC series products and AT8699R desk stand
Power module plugs into any standard XLRF-type connector or mounts to 5/8"-27 stands using included quick-mount stand adapter
Available interchangeable elements permit angle of acceptance from 90° to 360°
Designed for professional sound reinforcement and other commercial sound applications
Interchangeable condenser microphone elements provide full-range, natural sound
Low-profile element provides uniform hypercardioid polar pattern with 100° acceptance angle
Included low-profile universal isolation mount attenuates noise, shock and vibration
Small-diameter gooseneck design permits highly flexible positioning
Superior off-axis rejection for maximum gain before feedback
UniGuard® RFI-shielding technology offers outstanding rejection of radio frequency interference (RFI)
Includes foam windscreen
Available in six lengths
Product Specifications 
Element
Fixed-charge back plate, permanently polarised condenser
Polar Pattern
Frequency Response
Open Circuit Sensitivity
-40 dB (10.0 mV) re 1V at 1 Pa
Impedance
Maximum Input Sound Level
Dynamic Range (Typical)
Signal-to-Noise Ratio
Phantom Power Requirements
Switch
Current Consumption
Weight
ES925H6/XLR: 102.0 g (3.6 oz)
ES925H12/XLR: 126.0 g (4.5 oz)
ES925H15/XLR: 131.0 g (4.6 oz)
ES925H18/XLR: 136.0 g (4.8 oz)
ES925H21/XLR: 141.0 g (5.0 oz)
ES925H24/XLR: 146.0 g (5.2 oz)
Dimensions
ES925H6/XLR: 20.2 mm (0.80") diameter, 197.4 mm (7.77") height
ES925H12/XLR: 20.2 mm (0.80") diameter, 304.8 mm (12.00") height
ES925H15/XLR: 20.2 mm (0.80") diameter, 381.0 mm (15.00") height
ES925H18/XLR: 20.2 mm (0.80") diameter, 457.2 mm (18.00") height
ES925H21/XLR: 20.2 mm (0.80") diameter, 533.4 mm (21.00") height
ES925H24/XLR: 20.2 mm (0.80") diameter, 609.6 mm (24.00") height
Output Connector
Optional Interchangeable Elements
ESE-Ca cardioid (120°)
ESE-Ha hypercardioid (100°)
ESE-MLa MicroLine® (90°)
Accessories Furnished
AT8109a foam windscreen; AT8474 universal isolation mount; AT8473 quick mount stand adapter; 5/8"-17 to 3/8"-16 threaded adapter; set screw (M2 x 2); hex wrench
Audio-Technica Case Style
Manufacturer: Audio Technica
---
We Also Recommend