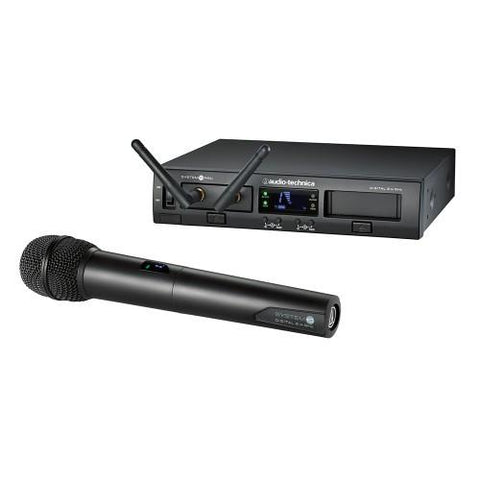 Audio-Technica ATW-1302 Wireless System 2.4Ghz
ATW-1302
Usually shipped within 2-3 working days
---
---
The ATW-1302 System 10 Pro on 2.4Ghz works in 24-bit / 48 kHz, and allows easy use while ensuring clear and natural sound quality.
The system offers three levels of diversity: frequency, time and space. Frequency diversity sends the signal to two frequencies allocated for communication without interference.
The time diversity sends the signal in several time slots to optimise immunity against multipath interference. Finally, space diversity uses two antennas on each transmitter and receiver to maximise signal integrity.
The Audio-Technica "System 10 Pro" rack-mountable digital wireless system is so simple to use, so dependable and so automatic that you'll never have to think about it. 
Set it up anywhere, turn it on and its good to go.
Main Features
2.4 GHz 24-bit / 48kHz Digital wireless system
No interference, as operates outside of DTV or 3G bands
Automatic Frequency Selection. Plug & Play. Ease of use and reliability
Offers 3 levels of diversity (frequency, time and space) to ensure communication without interference
Rackable metal chassis, comes with a removable receiver (Kit setting rack included)
Possibility of 2 interchangeable receivers per chassis
Users can pair each receiver with up to 10 transmitters
2 frames or 4 receivers can fit in a 19" 1U rack
Possibility to chain up to 5 frames (10 receivers) using RJ12 type cables (one cable per system)
Up to 10 systems can be used simultaneously without any frequency coordination problems or group selection
Hi-Fi audio quality over the whole frequency range (20 Hz to 20 kHz)
No compression during transmission and reception for clear, natural sound
Specifications
Overall System
Operating Frequencies
2.4 GHz ISM band
Frequency Response
20 Hz to 20 kHz Depending on microphone type
Operating Range
60 m (200') Open range env. with no interfering signals
Dynamic Range
>109 dB (A-weighted), typical
Total Harmonic Distortion
<0.05% typical
Operating Temperature Range
0° C to +40° C (32° F to 104° F) Battery performance may be reduced at very low temperatures
Audio Sampling
24 bit / 48 kHz
Latency
3.8 ms
Receiver
Receiving System
Diversity (frequency/time/space)
Output Connectors (Microphone)
Remote Receiver Connector: RJ45
Link Connector: RJ12
Maximum Output Level
XLR, balanced: 0 dBV 1/4" (6.3 mm), unbalanced: +6 dBV
Power Supply
100-240V AC (50/60 Hz) to 12V DC 0.5A power supply switched mode external
Dimensions
209.8 mm (8.26") W x 44 mm (1.73") Hx 169.3 mm (6.67") D
Weight
940g
Accessories Included
Included AC adapter, Link cable, Rack-mount adapters, Joining plate, Rubber feet
Handheld Transmitter
RF Power Output
10 mW
Spurious Emissions
Following federal and national regulations
Battery Type
Two 1.5V AA (not included)
Battery Life
>7 hours (alkaline) (Depending on battery type and use pattern)
Dimensions
254.8 mm (10.03") long, 50.0 mm (1.97") diameter
Net Weight
280g
Accessories Included
AT8456a Quiet-Flex™ stand clamp
Manufacturer: Audio Technica
---
We Also Recommend