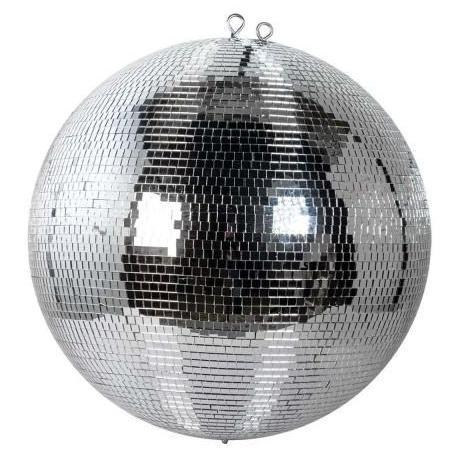 ADJ M4040 40 Inch Glass Mirror Ball
1221100007
Usually shipped within 2-3 working days
---
---
The ADJ M4040 is a massive 40-inch mirror ball that is designed for professional use in large dance clubs, electronic dance festivals, new years eve parties, school/corporate events and any event where a large impact is needed.
This monster of a mirror ball will shine light reflections on everything in the room. 
Included with the ADJ M4040 are two safety hooks that can be used to ensure that it is properly and safely hung. Coming in at a weight of 82 pounds, we recommend that you purchase the heavy duty pro mirror ball motor ADJ HDMB40K. Doing so will ensure that it is properly supported. 
With 100s of reflective mini panels and 40 inch size, expect a brilliant reflection to be projected onto every square inch of the dance floor of any size. Shine different coloured lights towards the M4040 40" glass mirror ball to produce a spectacular mix of colour all over the room.
Using the ADJ M4040 40" glass mirror ball during your next event will surely draw people into the middle of the dance floor.
FEATURES:
1 Metre (40 inch) glass mirror ball
Solid plastic core
Safety chain
Offers a massive spread of light reflections
Perfect for large events
Gives classic mirror ball effect
Optional Extra: Mirror Ball Motor HDMB40K
SPECIFICATION:
Height: 1020mm
Width: 1016mm
Length: 1016mm
Weight: 37.10kg
Manufacturer: ADJ
---
We Also Recommend